I love steampunk fashion & accessories–in fact, I love these 2 things so much that I cannot relegate them solely to cons, shows, or Halloween. "Style me Steampunk" is a series of blog posts on how to infuse your everyday wardrobe with a steampunk flair. From dressy to casual, office appropriate attire to outfits you can wear when you paint the town red–I will offer up ideas for outfits that will hopefully inspire some of you to dip into your closet and get creative!
Style me Steampunk: The Steampunk Ballerina
This is one of my favorite outfits--it's comfortable and easy to move around in while also not sacrificing style or a theatrical flair.  I call this look the steampunk ballerina because, to me, it resembles much of the dress that Victorian ballerinas donned on stage.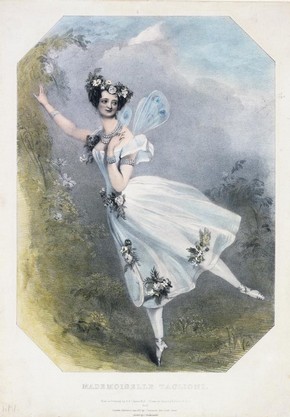 Victorian Ballerinas wore longer skirts than our modern day ballerinas (hitting roughly the shins, as depicted above) in addition they also wore corsets (or corset-resembling tops).
To re-create this look, you'll need:
Fossil Black Tulle Skirt (there are a number of clothing companies that have similar style skirts right now. They are en vogue this Winter)
Ballet flats (I particularly love ballet flats that have ankle straps or are a fusion of ballet flats and mary janes)
Corset t-shirt (I purchased mine from CarouselInk on Etsy--here's a link to the t-shirt. Side note on the t-shirt: it runs true to size and will not shrink when you wash it.)
Steampunk Jewelry (made mine! Check out my Etsy shop for bling of your own)
Costume Option: If you wanted to turn this look into a costume for a con or a party it's simple. Put on some elbow length gloves (preferably matching the color of your skirt & flats) and artfully weave flowers in your hair. Maybe even grab a fan for flirty good measure or like Marie Taglioni, you too can be a fairy with some cheap pantyhose wings (spruce 'em up and draw gears & cogs on them and then glue rhinestones over your drawn lines)!
You can't see it because it's covered by my other hand but when I entered The Girlie Show in OKC they marked my hand with an "X"--it perfectly matched the color of my cuff. I had a beautiful golden X and was serendipitously styled that day!  Have fun creating this look, wear it fiercely!