Method All-Purpose Disposable Wipes
Face mask
Vacuum cleaner
Razor blade
Wood polish & rag
Modge Podge or Paint
Flat brackets
Screws
Screwdriver
Awl
Measuring Tape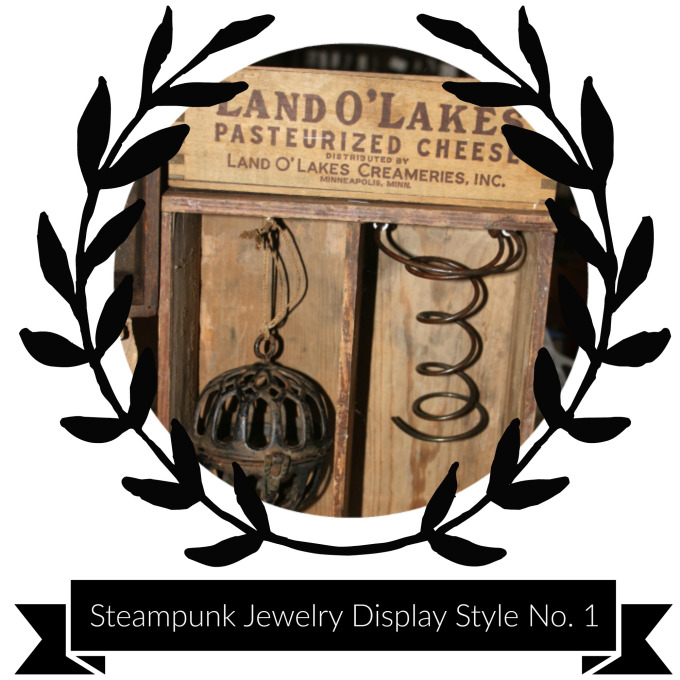 2 boxes (1 large and 1 small)
2 nails
Hammer
Murphy's Oil
3 medium-large cup hooks, or more if preferred
1 large spring
Modge podge
Paintbrush
Scissors
Awl
Map tissue paper (or regular paper) cut to fit the bottom of your box
Twine
Metal filigree globe (this can be substituted for anything else you'd like or can find that fits your box that you can hang jewelry from)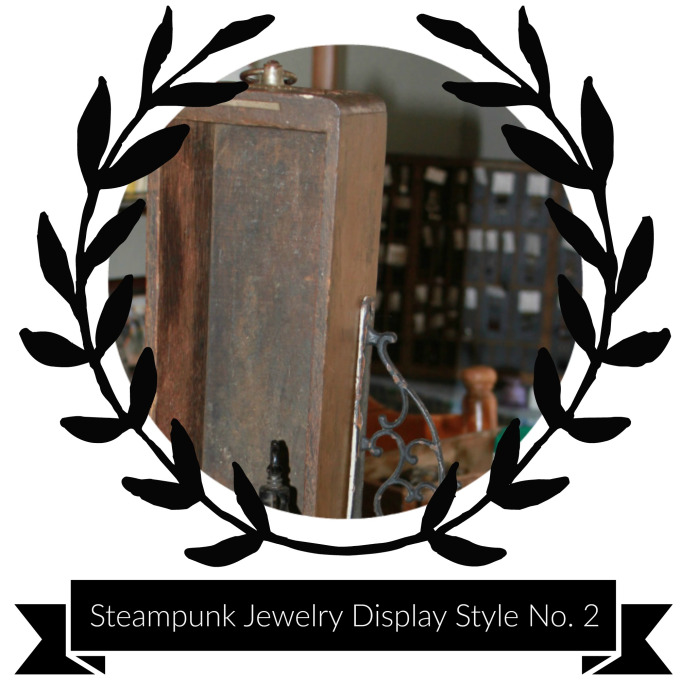 2 boxes (1 large and 1 small)
2 screws
Drill & screwdriver
Murphy's Oil
Medium-large cup hooks, as many as preferred
Awl
C-clamp
Decorative metal bracket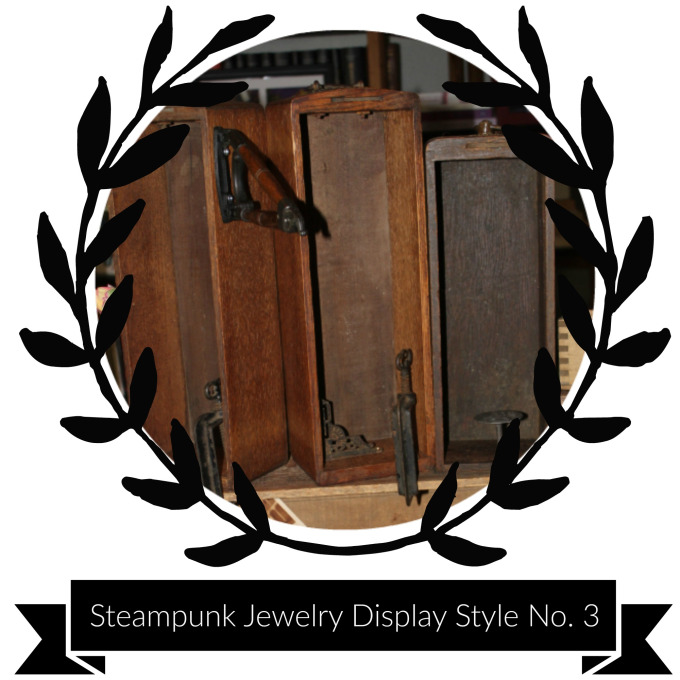 4 boxes (1 large and 3 small)
4 screws
Drill & screwdriver
Murphy's Oil
Medium-large cup hooks, as many as preferred
Awl
3 c-clamps
Photo
Shoe horn
Decorative hook
Decorative metal bracket
Scissors
An awl
A pencil
Small cup hook (generally you want one with a 1/4″ screw)
Small picture frame
Small piece (or scrap) of scrapbook paper
Glue Stick
Paper/poster board watch face (mine is upcycled from an old pocketwatch; but you can also print your own from the Graphics Fairy)
Screwdriver
Scissors
Needle & thread
2 books (1 to use as the display and the other to use as an anchor)
Cup hooks (white)
Sharpie marker
Awl
Brads
Lace
Buttons
All-purpose glue
1 pkg. of corner braces with screws (mine are 2 1/2″ x 5/8″) but really this just depends on the size of your book
Chalkboard (or you can get a cool frame, and paint it with chalkboard paint)
Small wooden circle pieces (approx. 1/4″ thick)
10-25 Wooden gears (various sizes) or more if you wish
Tacky Glue (or wood glue)
Gold Metallic Spray Paint
Cardboard (to protect your surface when spray painting)
Clips or clothespins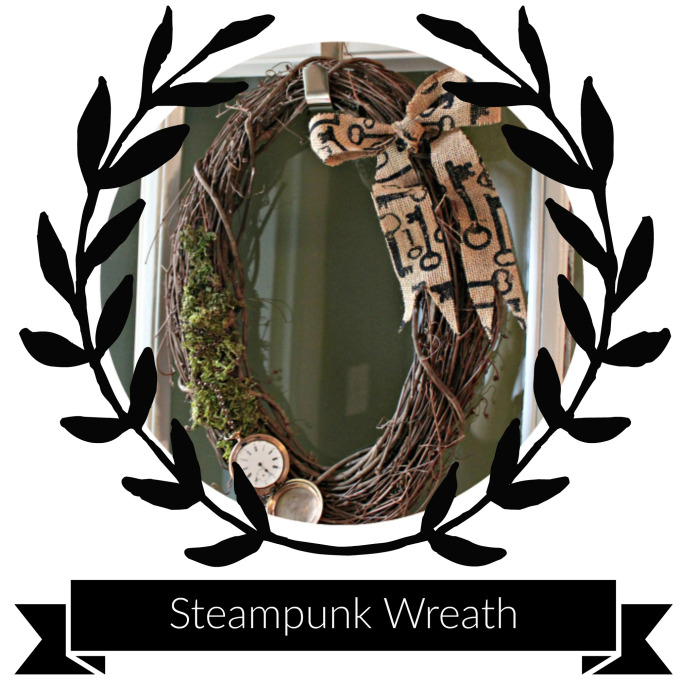 Wreath (wicker works really well because you can both wire wrap & hot glue pieces in place)
Moss
Pocketwatch
Some chain (I used approx. 2 inches)
Ribbon (mine is a burlap skeleton key patterned ribbon available at Michaels)
1 strong jump ring (large enough to fit both a chain link & your pocketwatch's loop)
Hot glue gun
Wire (mine is an antique gold color which blends well with a brown wicker wreath)
Wire cutters & flat nosed pliers
Scissors
Clear glass candle holders (1 large and 1 small)
Lightbulbs
Tea candle
Gears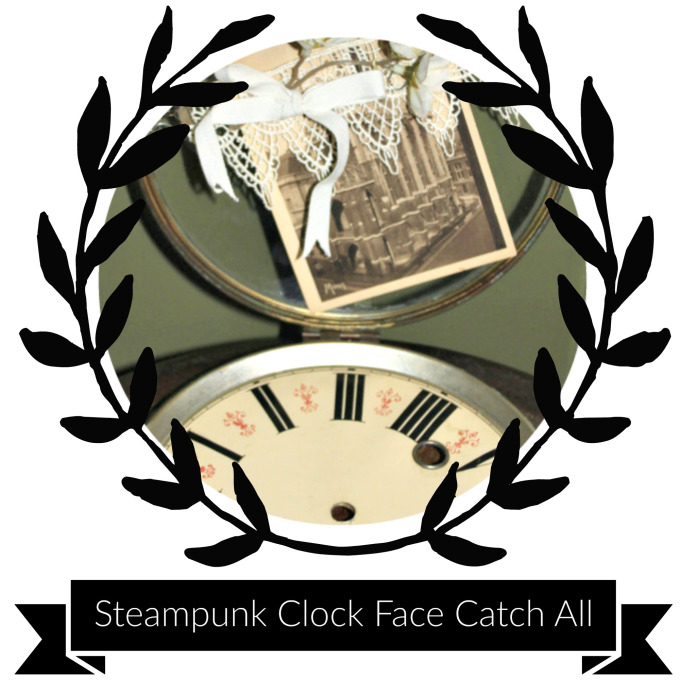 Clock Face (oversize or large) that has a protective covering. If you cannot find a clock face then try looking for a sundial instead.
Vintage Photograph or Postcard (that fits inside your covering)
Ribbon
Fake Flower
Lace
Paperclip
Scissors
Needle & Thread (or glue gun)
Chain (also measured to equal the circumference of your covering)
Jewelry pliers & wire cutter
2 Ribbon Crimps
2 jump rings
Oval picture frame & mat
Felt (1-2 pieces), the felt I choose had an ornate pattern which made it appear like leather. I recommend using a patterned felt to create your silhouette because it offers up another element of texture (.79 cents ea, $1.58)
1 piece of Scrapbook paper (any color/pattern of your choosing) (1 sheet, $1.00)
Tacky Glue
Scissors
Exacto Knife
Paper & Pencil (for tracing)
Black Sharpie Maker (optional)
8-12 springs (depending on the thickness of your curtain)
Grandfather clock gear
Flat nosed pliers
Jump rings
1 large Mason Jar
Light bulbs (of various sizes and shapes)
2-3 clock gears
Grandfather clock part or a machine part with two plates (a 1/4 inch larger than your mason jar top)
22 gauge Artist wire (or floral wire will do) in a color of your choice (I used copper colored wire)
Modge podge
Book page (can be an old book or one that you love)
Wire cutters
Flat nosed pliers
Paintbrush
Scissors
Mason jar
Medium sized bicycle gear (from a cassette)
Glass candlestick holder
Candlestick
Various odds & ends of your choosing to place inside your jar (I used washers, springs, bicycle brakes, clock parts & gears.)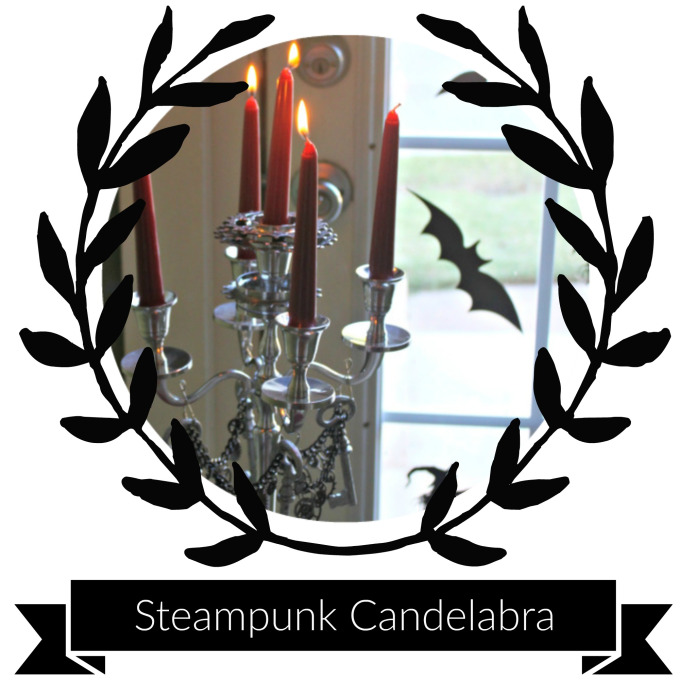 2 bike gears, cleaned (free)
1 candelabra (I purchased mine from Michaels for 24.99)
2 skeleton keys (mine are fake metal keys, also purchased from Michaels in the dollar section: 4.00)
Chain (1 pkg., 2.99)
4 large swivel hooks (1 pkg. of 4, 1.99)
Ideology brand reproduction gears (2 pkgs., 4.99 ea.)
Jump rings
4 candlesticks (1.00 ea.)
Wire cutters
Flat nosed pliers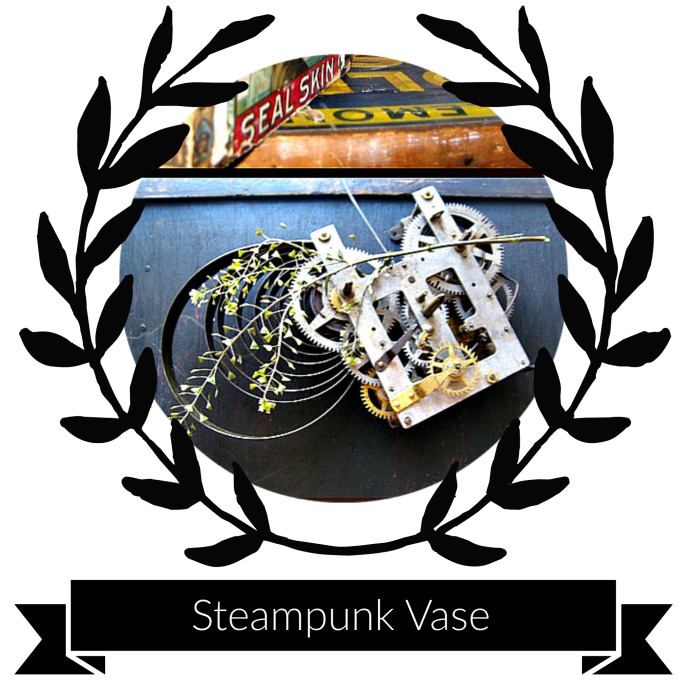 Bud vase (or any glass or metal vase that fits inside your clock's mechanism)
Flowers
Clock (or machine) part
Cake Stand
10 small gears & 9 large gears (For this DIY, I'd recommend reproduction gears over salvaged gears because the gears will be around a lot more moisture; Reproduction gears are available at your local craft store)
1 skeleton key
9 lock washers
27 small jump rings (45 if you are adding the beads yourself)
9 large jump rings
Flat nosed pliers (and also needle nosed pliers & wire cutters, if you are adding beads yourself)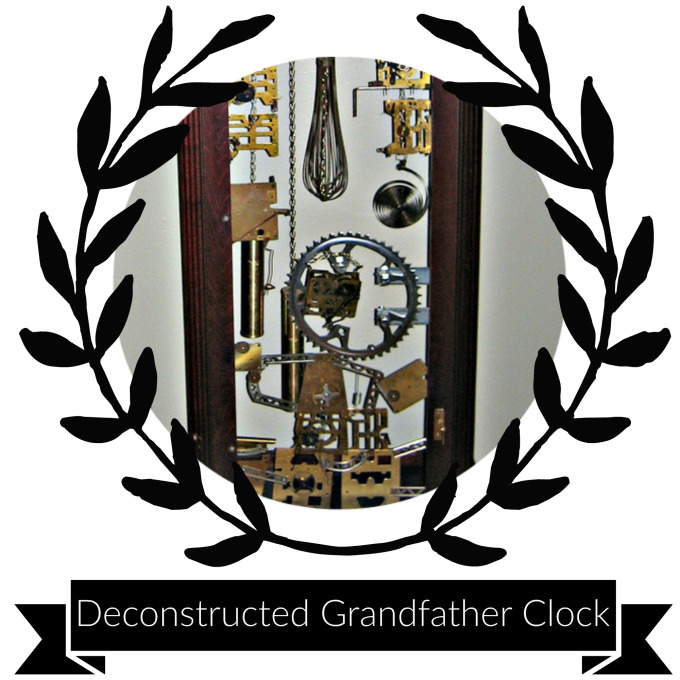 Grandfather Clock
Screws (of various sizes, fitting your collected pieces)
Chain & jump rings
Metal brackets (for heavier pieces, like the bicycle gear pictured above)
Gorilla brand wood glue
Nails (for extra support at the base of your grandfather clock),
Metal connector pieces (like the metal erector set pieces that I used–which are a rare find; however, at Lowes Home Improvement you can purchase similar metal pieces in their hardware section categorized under hardware designated for "Science Projects.")
Hammers (one large & one small)
Awl
Pliers (for opening jump rings & chain links)
Screwdriver
Plain card & envelope (your choice of color)
Bakers Twine (your choice of color)
Small Magnifying Glass
Small Heart Stamp (or you can draw your heart)
Scissors, pink or red marker & Pen
3 gears (I used reproduction gears which you can purchase at Michaels in their jewelry section)
3 brads
A Heart Stamp (or you can draw your own heart)
Scrap piece of paper (to stamp the heart on)
Glasses (just the front piece of the frame, or a monocle would work too)
Plain Cards & Envelopes
Stamps
Glue Stick
Awl
Scissors
Sharpie
Bakers Twine
Token
Wrapping paper
Lace
Ribbon
Spring
Twig of berries
Scissors & tape
Locket
Cameo
Coin Purse
Flower
Springs
Pumpkin Carving Tools
2 gears, or as many as you prefer your pumpkin can have many cog & gear eyeballs (salvaged is preferable but if you cannot find any you can purchase reproduction gears from Michaels. Just look for the "Industrial Chic" or "Found Objects" items).
3 springs (use 5-6 springs if you have a large pumpkin)
Accessories, goggles, a top hat, a monocle, pocketwatch, eyepatch–get creative!
Red Christmas Ball
Length of Chain (It's best to use something that you'd ordinarily throw away–like broken chain from a necklace or bracelet). The amount of chain you'll need depends on the size of your ornament. Mine was small so I used approximately 1/2 inch of chain.
Flat faced button
Jump Rings (2 small and 1 large–the large jump ring must fit through one of your button holes)
Christmas Tree Hook
Skate Key
Ribbon
Scissors
Tree Hook
Christmas tree ball
Tiny key
Tree hook
Christmas tree ball
Length of chain–appropriate to your ball's size
Snowflake sequin
Game spinner
2 jump rings
Awl
Flat nosed pliers
Twigs of fake berries
Springs
Pliers
Jump Rings
Skeleton Key
Snowflake Sequin
Washer (small)
Pearl (or any other bead you desire)
Clothing Hook
Christmas Tree Hook
Jump rings (2 small and 1 large)
Headpin (1)
Awl
Pair of flat nosed pliers
Pair of needle nosed pliers
Wire cutters
Cardstock Paper
Brads
Gears
Calligraphy Pen
Colored Pencil (metallic gold)
Scissors or a paper cutter
Flowers, real or synthetic (your choice)
Floral wire (or any green colored wire) & wire cutters (or toenail clippers)
Needle & thread & scissors
Lace & ribbon (or you can choose any kind of fabric you'd like instead of lace)
clock gear
Pin
Square of Absorbent fabric (my fabric is a piece of 5×5 muslin)
20 inches of lace
Pins
Sewing machine
Scissors; Olfa cutter
Omnigrid ruler (or any other kind of fabric ruler)
Embroidery thread & needle (optional)
Steampunk molds, safe for food. I highly recommend MoldMuse.
Cake mix (or a cake recipe that you love)
Frosting
Bittersweet chocolate
Pyrex measuring cup
Sauce pan
Vanilla extract (optional)
Finely shaved orange peel (optional)
Sandwich Toothpicks (optional)
Oven and other baking supplies–bowls, spoons, etc.
Mask (mine was $2.99 from Party City)
Lacy tights (mine were a pair that I had to stop wearing because of a huge tear–this is a great DIY for reusing ruined fancy/patterned tights)
An old rhinestone necklace
Needle & thread (in a color that matches)
Wire cutters (or toenail clippers)
Pliers (if needed)
Embroidery needle
Pins
Scissors
Beads (optional, if desired)
Pair of gloves
Scissors
Needle & Thread (the thread should match the color of your gloves)
Pins
Decorative ribbon (I purchased mine from JoAnn's for just $2.99)
Embroidered Ribbon Clothing Toggle (you can find these in any sewing or fabric store in the belt & fasteners aisle)
Piece of plastic or cardboard that fits inside your gloves
Medal Ribbon (any length you desire)
Bicycle Gear (from a cassette)
Pocketwatch part (preferably one of the cover pieces which are more ornamental)
Pin
Safety pin
EE3000 or 5000 glue
Needle & Thread (if you prefer to hand sew) or Sewing Machine (which I'd suggest)
Scissors
Bowler hat
Safety Pin
Needle & Thread
Ribbon
Small leather pouch
Magnifying glass
Game Spinner
Clock Gear
Jumps Rings
Pliers
Scissors
Awl
Pins
Medium-sized Bike Gear (from a cassette)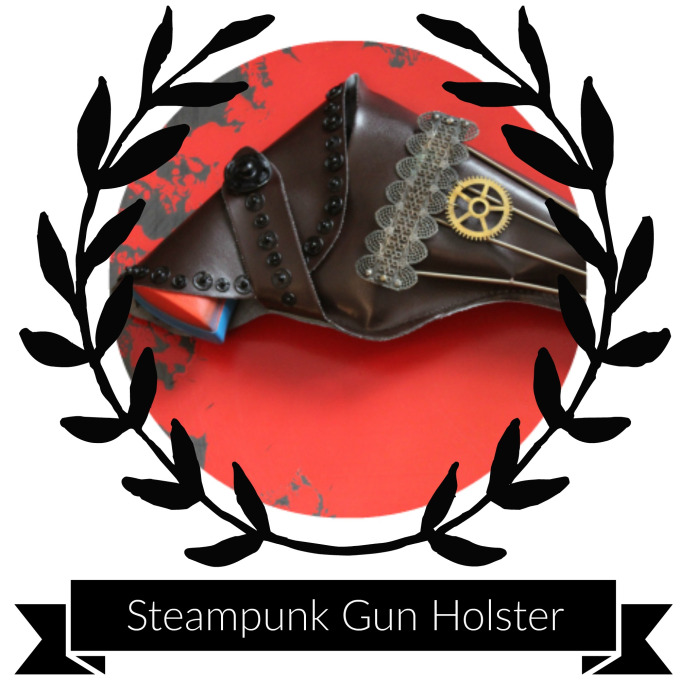 Imitation leather gun holster (sourced from your local Halloween store)
Needle & Heavy thread
Long Springs–You can substitute any straight metal material here: wire, typewriter keys, or even chain
Medium Grandfather clock gear (or reproduction gear)
2 large jump rings (and flat nosed pliers)
15-20 small Clothing Snaps
1 large Clothing Snap
1 Long metal pin
Crown Ornament (a filigree metal crown is best since it has many holes in it already) ($4.99)
Brads ($4.99)
1-2 packages of reproduction metal gears ($5.99 each at Michaels)
Light bulbs (optional)
Rhinestone clip-on earrings (optional)
2 Grandfather clock hands (optional)
Small magnifying glass & chain (optional)
Wire (as close to the color of your crown) & wire cutters (for attaching light bulbs)
Pair of flat nosed pliers
Mask (I purchased mine from Party City for 99 cents)
Reproduction Gears (I don't recommend using actual gears since the weight of real gears will pull the mask away or down from your face because of the additional weight)
Brads
Needle & thread (matching the color of your mask)
Embroidery needle
Marker, fabric crayon, or chalk
Scissors
Tacky Glue (or any other all-purpose glue)
An awl
Cotton Cloth or felt (for backing your mask)
Fabric Antique Spray (optional)
Work surface (I have a portable thick wood piece that I use)
Dress (mid-knee or floor length)
Elbow-Length Gloves
Eye patch (any Halloween shop or Dollar Store has an eye patch you can purchase pretty cheaply)
Goggles
Crown
Steampunk Jewelry
Metal Filigree Mask (I purchased mine from Party City for $14.99)
Gold Ribbon
1-2 inches of gold or brass chain
Jump rings (assorted sizes)
Gold foil beads (or any beads that suit your taste)
Headpins
Clock Face
1 brad (preferably matching the color of your clock face)
2 clock springs (preferably from a wristwatch–they are the easiest to manipulate & cut)
Clock gears (I used 5; you can use more if desired)
34 gauge jewelry wire (or any fine wire)
Scissors
Wire cutters
Flat nosed pliers
Needle nosed pliers
Flat nosed pliers
1 pair of socks (your choice of color and texture)
Stuffing
Needle & thread (ideally you want black, brown, and whatever color thread matches your sock)
Brown or black embroidery thread (or another kind of heavy thread)
Scissors
2 small black seed beads (for the eyes)
1 button (for the nose)
1 pin back
2 clock cogs (or if you prefer, you can substitute 1 clock cog for a watch face or watch plate)
1 game spinner or clock hand
1 brad
Leather chord
2 lock washers
1 jump ring
Square block of wood
3 gears (mine here are reproduction gears that you can purchase at Michaels–these work best because they are flat)
Hammer & 3 nails (the nail heads should be large enough so that they hold the gears in place)
3 rubber washers (should be roughly the same width. See second picture below)